Why should you choose a chemical free sunblock? Chemical sunscreen ingredients—often with names ending in -salate or -benzone—can give a better look and feel to sun-care products than physical sunscreens since they tend to sink into skin readily and dry clear. However, the price your skin pays being exposed to them may not be worth it. Conventional sunscreen is loaded with chemicals, well-established carcinogens and oxybenzone (an endocrine disruptor) that may generate free radicals when exposed to ultraviolet light. Some researchers even suspect oxybenzone to be the hidden cause of the increase in melanoma.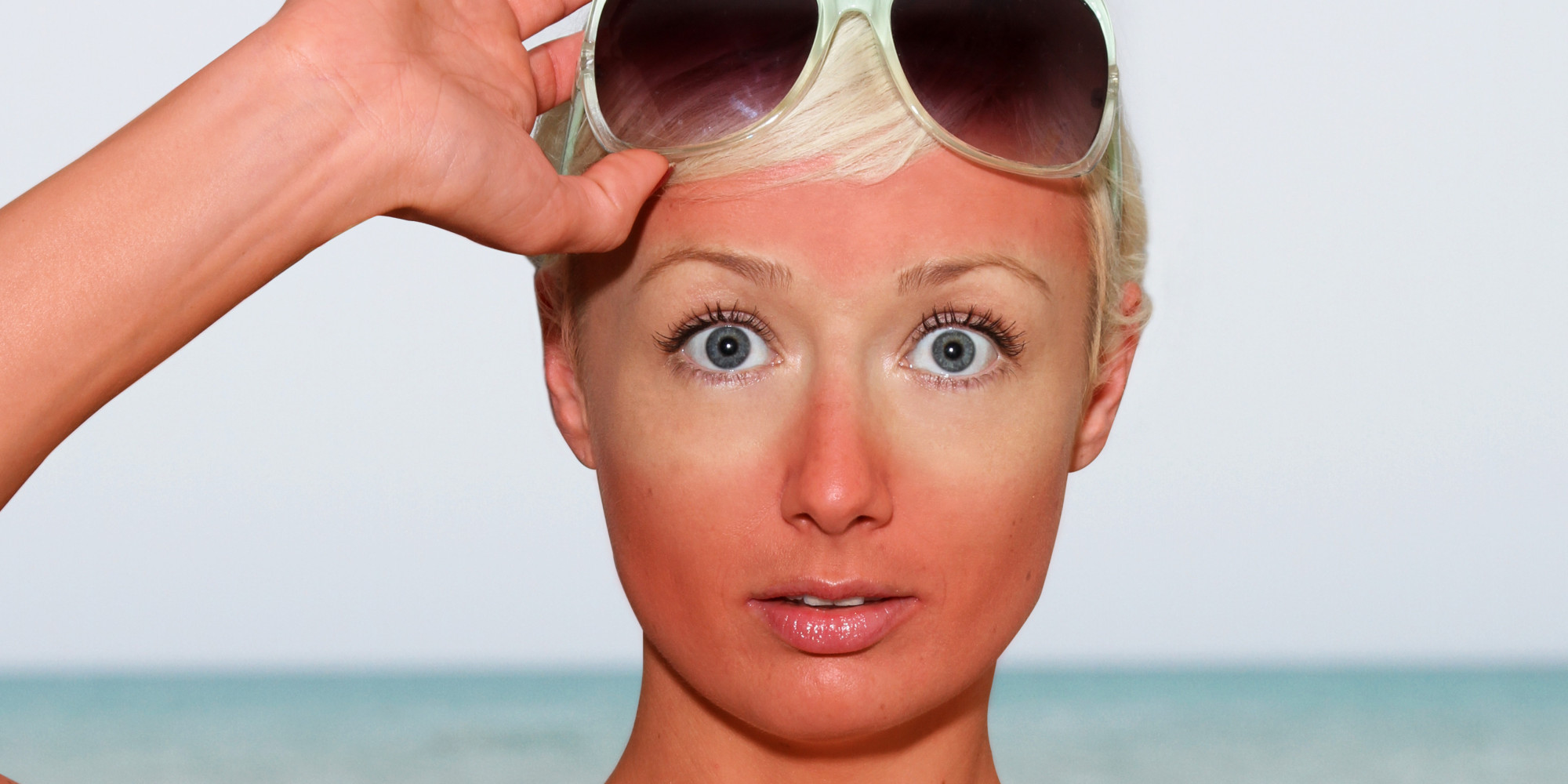 At one time the only sunscreen ingredient we had available was PABA (para-aminobenzoic acid), thankfully they banned it. Another chemical, Oxybenzone, probably the most notorious UV filter, was approved by the FDA way back in 1978. Also referred to as BP3, it's a member of the phenol family that has become so omnipresent, it's been estimated that traces can be found in the urine of 96 percent of the U.S. population. In a 2004 study, researchers found that on the first day after applying a sunscreen with oxybenzone, both young men and postmenopausal women experienced a drop of testosterone levels. The current consensus on oxybenzone is that the hormone fluctuations are not clinically significant.
Chemical Free Sunblocks
On the other hand, physical sunscreens can be helpful for anyone with sensitive skin since they're less likely to exacerbate irritation and redness. If you like the idea of chemical-free sunscreens look for zinc oxide, or titanium dioxide a physical blocker.  The quality of the sunblock you choose matters. Nanoparticles are small enough to penetrate cell membranes, particle must be 50 nanometers or less to penetrate a cell membrane.. Instead of nanoparticles, some sunscreen makers use "micronized" particles—basically, these are just slightly larger than nanoparticles, but still tiny. To be exact, a nanoparticle is less than 100 nanometers in diameter, so micronized zinc oxide or titanium dioxide must be larger than this.
My favorite chemical free sunblock
Skinceuticals Physical Fusion UV Defense Sunscreen SPF 50.
It provides broad-spectrum sun protection 50 from both burning and aging sun rays, it also provides a universal tint that enhances your skin tone and boosts radiance. I like it because it is light and doesn't look pasty or thick.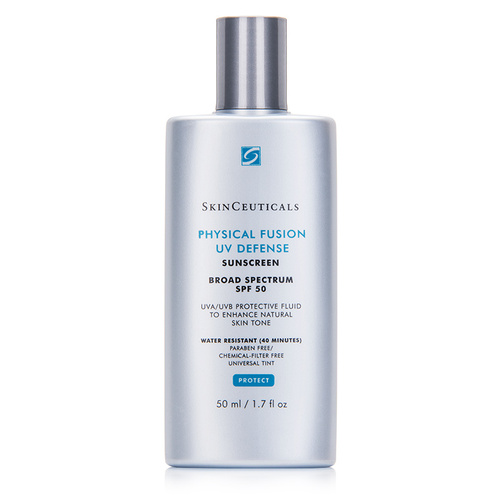 It glides on smooth and doesn't leave behind any oily or white residue. Water-resistant for up to 40 minutes, the lightweight formula melts into skin, boosting radiance and increasing your skin's defenses to keep you protected from premature signs of aging and damaging sun rays.  It is a great chemical free sunblock.
Key Ingredients:
Titanium Dioxide and Zinc Oxide: provide broad-spectrum sun protection to prevent skin from burning and prematurely aging
Translucent Color Spheres: provides a universal tint that blends to match all skin tones and repels oil to maintain a shine-free complexion
Artemia Salina: boosts your skin's natural defenses to protect collagen from UV damage.
Allure Best of Beauty 2013 Winner: Best Facial Sunscreen
EltaMD UV Physical SPF 41
For oil-free sun protection with just a touch of color, our lightly tinted UV Physical is a healthy choice. This chemical free sunblock, a natural mineral sunscreen has antioxidants to neutralize free radicals. Water-resistant UV Physical withstands water, humidity and perspiration.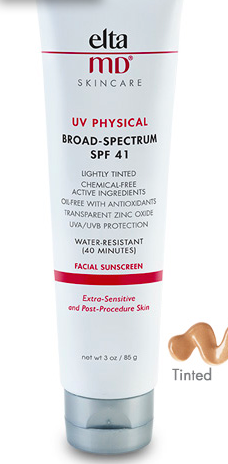 0% transparent zinc oxide, 7.0% titanium dioxide
Antioxidant protection combats skin-aging free radicals associated with ultraviolet (UV) and infrared radiation (IR).
Lightly-tinted formula
Water-resistant (40 minutes)
UVA/UVB sun protection
Fragrance-free, oil-free, paraben-free, sensitivity-free, chemical-free and noncomedogenic
Fragrance and paraben-free, it provides Skin Cancer
Foundation recommended broad-spectrum protection without irritation. Zinc oxide and titanium shield your face from the suns damaging UVA and UVB rays. This mineral-based sun protection is also effective for use after facial procedures that may leave your skin extra vulnerable. Lightly tinted, you can use it daily with or without additional foundation for wrinkle fighting, dark spot preventing protection. This is a little more makeup like, and great for fair to medium complexions. Water-resistant
BRUSH ON BLOCK
Another one I love to use if I am going to be outside for an extended period of time, I layer this over a liquid sunblock for all day protection. Or just use a light coat for everyday wear. It comes in a convenient, portable applicator. Brush-On Block Mineral Sunscreen SPF 30 offers natural dry-mineral sunblock that's safe for everyone in your active family.
Naturally occurring ingredients provide invisible, hypoallergenic, sweat/water-resistant coverage against broad-spectrum rays, including UVA, UVB, and infrared
Contains no harsh chemicals to irritate skin, cause breakouts, or clog pores
Translucent shade disappears on every skin tone; can be used over or under makeup
Active ingredients: titanium dioxide 15%, zinc oxide 12%. Botanical ingredients: green tea leaf extract, safflower seed oil, chamomile extract, and honeysuckle
To refill, twist off empty cartridge from bottom and twist on refill (sold separately)
2 grams/0.12 ounces. Measures 5" x 1"
Last but not least, a drug store option for
chemical free sunblock
Personally I would not put this on my face but it is a great, inexpensive option for your body.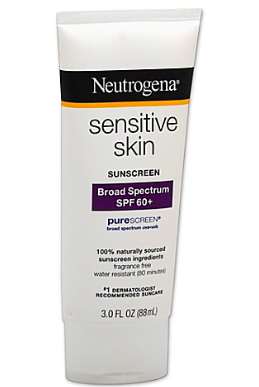 Neutrogena Sensitive Skin Sunscreen
Broad Spectrum SPF 60+
This oil-free sunscreen lotion for sensitive skin goes on evenly, absorbs quickly, and feels ultra light, all while providing superior broad-spectrum UVA/UVB sun protection. It's also formulated with PureScreen® Technology—a blend of 100% naturally sourced sunscreen ingredients—free of fragrance, dyes, oils, and irritating chemical ingredients, so it's gentle enough for sensitive skin.  Chemical free sunblock.
Water resistant (80 minutes)
PABA-free
Hypoallergenic
Oil free
Fragrance free
Broad Spectrum UVA/UVB
Costs about $10