How does it work?
PRX-T33 is the innovative ally for skin rejuvenation. It is a regenerative medical treatment suitable for all ages: it maintains the characteristics of freshness and health of younger skin, it reverses the biological clock of the mature one. PRX-T33 is also an "instant" treatment, designed for those looking for an immediate effect, to obtain a younger, fresh and luminous skin. Precisely for this characteristic, the revolutionary PRX-Therapy is loved by actors and VIPs and is their best kept beauty secret.
The treatment is performed by massaging the active ingredients into the deep layers of the skin. This short session, painless and without downtime, immediately improves the complexion. This "instant" effect, linked to the long-term one, has made PRX-T33 famous all over the world, perfect for all skin types, from the lightest to the darkest. Created by Dr. Rossana Castellana, one of the pioneers of aesthetic medicine in Europe it is present in over 40 countries and should be carried out exclusively by certified specialists. Patients choose it for its immediate rejuvenating effects, no "downtime", simple and painless application.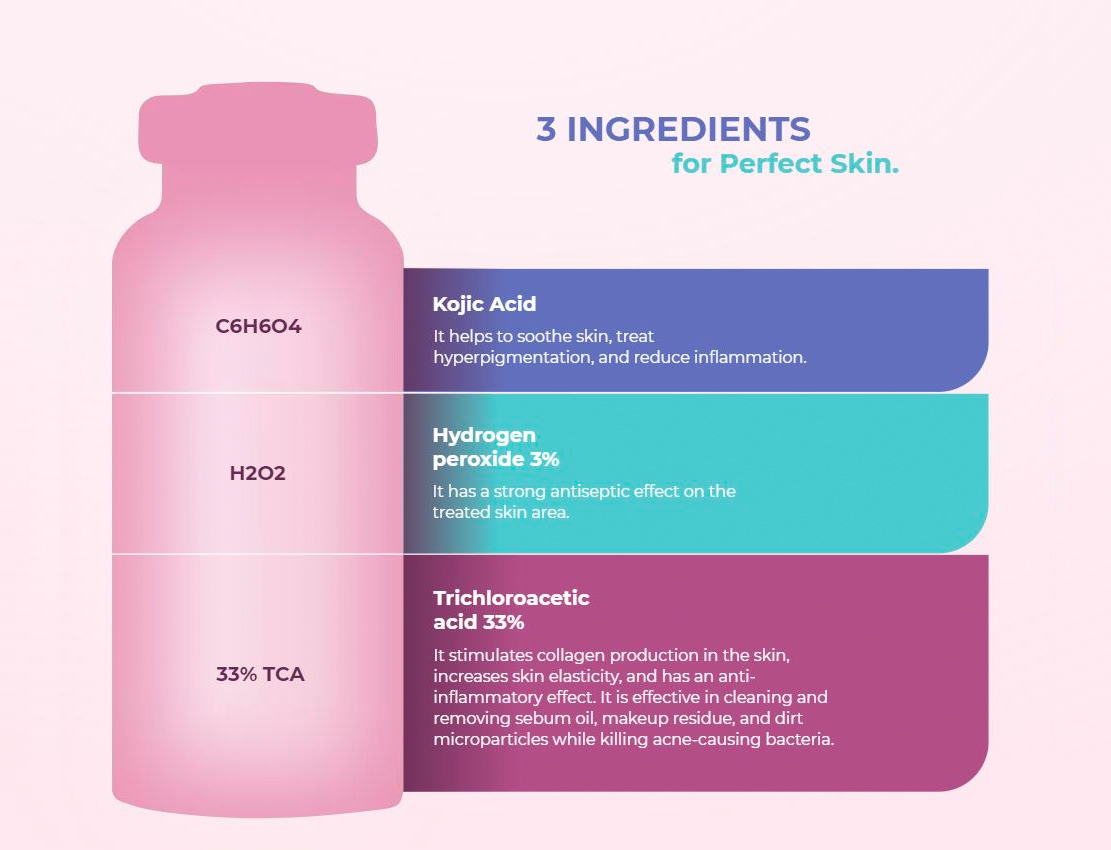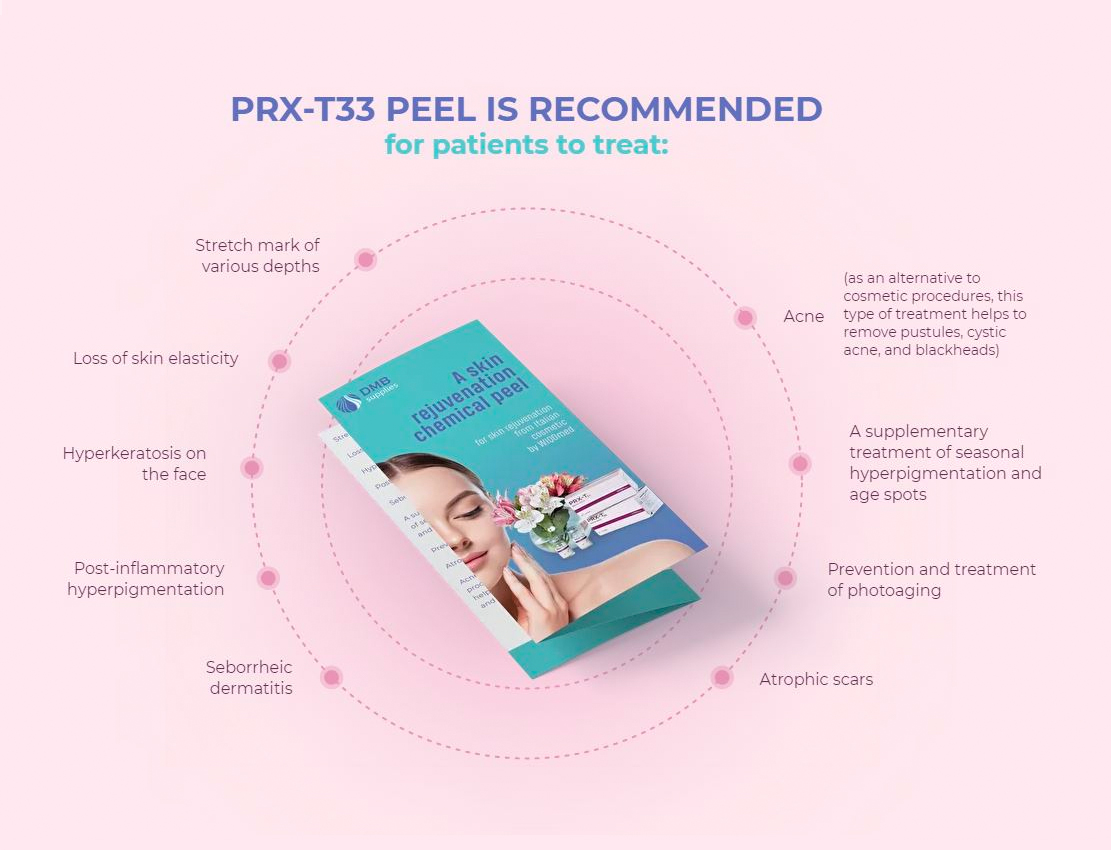 About the procedure
The face is cleansed and a prep solution is applied. The PRX-T33 is rubbed into the skin using a firm upward pressure, 2-4 layers are applied until we see the skin tightening. The PRX is washed off with water and a rich moisturiser is applied. TCA bypasses the epithelium, which means no pain and no peeling. Growth factors will be stimulated that trigger the healing process, thus minimising lines, tightening skin and reducing scars. The overall result is a visible tightening of the face and glowing, dewy skin. As the dermis has been stimulated, the improvements will continue post procedure.
The treatment is around 30 minutes for the face and up to 60 minutes for larger areas. There are no needles involved, no pain and no downtime. You will experience a tingling sensation, some might feel slight burning but most patients find the procedure very relaxing.
You will be able to continue with your routine after the treatment, you may experience a little redness although this will subside within a couple of hours. Due to the nature of the peel you can resume activities immediately and no need to avoid makeup.
How many treatments are required and when will I see results?
Some results of the PRX-T33 are immediate such as a tightening, brightening effect, which will improve further over the coming weeks. Many clients like this treatment to boost the skin prior to a photoshoot or special event.For maximum results we recommend between 2-5 treatments or until you see the desired level of tightening, you can then schedule maintenance treatments between 6-12 months depending on your age and skin concerns.
What areas can be treated?
The most commonly treated area is the face for loss of firmness, hypotonic skin, melasma and other pigmentation problems, scarring, acne and general rejuvenation. However it can also be used to improve the appearance of stretch marks and scars, firm the skin of the neck and décolletage and help improve ageing of the hands by dealing with pigmentation and skin thinning. PRX-T33® is an extremely versatile product because it can be used on its own or in combination with other cosmetic techniques to enhance their results. PRX-T33® is suitable for both males and females , at any time of year.
It is used mainly for the following indications:
– loss of firmness of skin on face and neck
– breast skin firming
– depressed scars
– stretch marks
– adjuvant in the treatment of cutaneous hyperpigmentation
Is it safe and what are the contraindications?
PRX-T33 was developed with safety in mind, containing proven and safe ingredients that have a wealth of evidence for their use. It is suitable for all ages, skin types and skin colours.
There are no needles and the procedure is non-invasive. It may create a mild stinging or burning sensation but no pain, no downtime and no peeling. It is non-photosensitsing so can be performed any time of the year.
You may not be suitable for treatment if you have any of the following:
– Pregnancy/Breastfeeding
– Infection/inflammation at the injection site including herpetic outbreaks
– An impaired immune system or undergoing treatment for cancer
– Allergy to any of the ingredients of the peel
– Sensitive/irritable skin
Aftercare products are recommended following the treatment and these will be discussed with you at your consultation.
Complications that may occur include:
– Prolonged peeling in areas with a very thick corneal layer which can last a few days.
– Prolonged redness, particularly on delicate skin.
– Intense burning sensation on application of the peel can occur on sensitive skin.
– Delayed redness, either widespread or in patches.
– Dark patches appearing within a few days, often due to drying of thicker layers of skin and settles within a few days.
– Allergy to any of the ingredients of the treatment.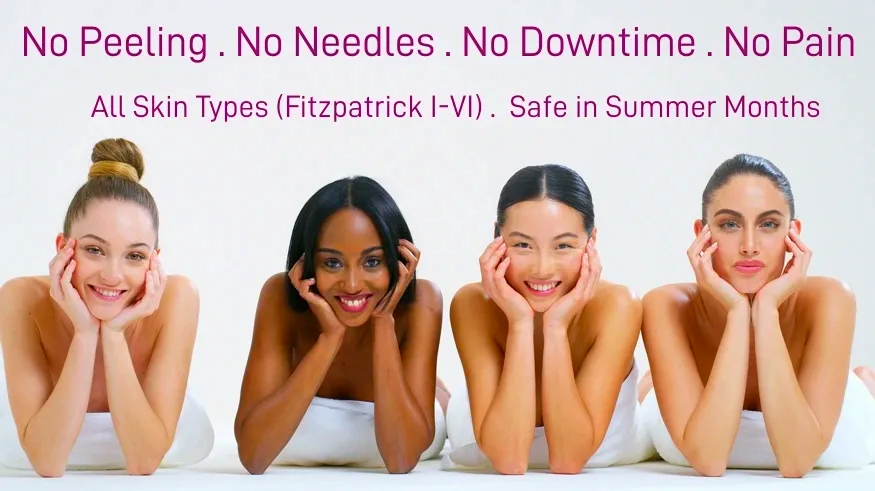 What is the precare and aftercare?
PRE-TREATMENT INSTRUCTIONS
PRX-T33 is a medical procedure to help improve the hydration, texture and pigmentation of the skin.
It is advised to avoid any exfoliating products (such as glycolic, lactic, salicylic acids) and retinol (Vitamin A) products on your skin for one week prior to treatment and until healing is complete. Similarly, avoid shaving or waxing the area for a few days prior to treatment. The procedure should not be performed alongside any other exfoliating treatments including other skin peels or microdermabrasion without the agreement of your treating practitioner. The treatment should not be performed on irritated or sunburnt skin and it is recommended to avoid tanning and sunbeds for at least 2 weeks.
If you have previously suffered with cold-sores, you must disclose this to the practitioner prior to treatment as you may require medication to prevent an outbreak.
If you have had any recent beauty or aesthetic treatments, this should be discussed with your practitioner to ensure that it is safe to proceed with the procedure.
A medical history form must be completed prior to any treatment.
If you are feeling unwell on the day of treatment, please contact the clinic to re-arrange your appointment.
AFTERCARE ADVICE
Following treatment, there may be some transient heat, redness, swelling, tenderness. The treated area may peel which may last for up to seven days. It is essential to use the correct aftercare products as prescribed by the practitioner to aid any the effects of the procedure. Although the peel is non-photosensitising, it is recommended to use a high SPF sun protectant during the healing process.
Dos and Don'ts
– Avoid applying make-up to the treated area for 24 hours
– Avoid other cosmetic, beauty or dental treatments for at least a week
– Use a high SPF sun-protection after treatment
– Avoid extremes of hot or cold which may induce sweating
– Use the prescribed aftercare products as directed
– Contact the clinic as soon as possible if you have any concern